By JP Chartier
GutterPup Adventures would like to let you in on one of the best kept secrets in Florida, an undeveloped tropical utopia swaddled by three miles of soft white sandy beaches, and sunsets that set the sky ablaze with dramatic oranges, reds, pinks and yellows night after night. This place is a personal favorite of mine, and is my secret get-away "spot" when I'm in the Tampa/St. Petersburg area.
This best-kept secret is called Fort De Soto Park, but it is so much more than your typical park.
It consists of five interconnected islands, or "keys," and gets its name from the 19th-century military fortification that is located there, complete with canon and 20′ thick walls that served as protection during the Spanish-American War. The park is located near the southern most tip of Pinellas County (St. Petersburg, Florida, USA), and is 1,136 acres of pristine, untouched beach-front land.
If you enjoy camping, fishing, snorkeling, kayaking, boating, birding, hiking, bike-riding, hanging out at an American Top-10 beach, swimming in the ocean or taking a stroll through an old military fort, than Fort De Soto Park is where you should be!
So come along with me, and lets explore this park together…
_____________________________
In case you're wondering what the heck a "key" is – A "key" is actually a special type of island, which is formed on the surface of coral reefs. Ocean currents pick up reef debris (particles that have broken off the reef as well as the skeletal remains of reef dwellers) and, due to tidal flows, deposits them in a particular area. Eventually, this 'debris' (which simply looks like sand to us) accumulates, and an island, or a "key" is formed.
_____________________________
CAMPGROUND
The "Fort De Soto Park Campground"  is located just inside the entrance to the park. I highly, highly recommend that you stay in the campground, it is top notch! Campers, RVs and tents are welcome and most of their sites are right on the water, what more could you ask for?
There are 241 campsites total, 85 are for tents and vans and the rest can accommodate all camping units. Each site comes with water/electric/grill/picnic table.
They also have a camp store, dump stations and restrooms with showers and laundry facilities.
Tents/Vans/Pop-Ups are $30 a night (as of May 2014)
RVs/Campers are $35 a night
Waterfront Premium Sites add $2 a night
BEACHES
The park has three beaches, one of which, North Beach, is quite famous.
North Beach – This is the jewel of the park, the 2005 #1 Beach in America according to Mr. Beach. This beach is huge, the size of the parking lot foreshadows this fact. After parking your vehicle, you walk past the large covered picnic areas, which you can rent in advance, and are well-kept and shaded by large beautiful pine trees. Make your way past the sand dunes and you're greeted by the rush of the sea breeze, salty and refreshing to both your sense of smell and taste.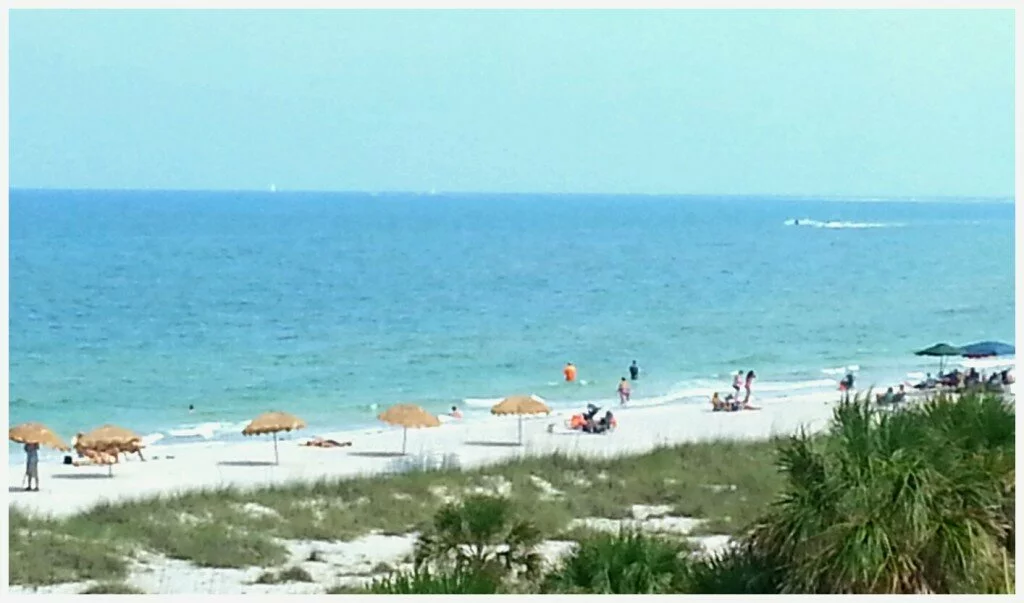 East Beach – This is the secluded beach, and it's on the opposite end of the park from North Beach, far away from all the crowds. It has everything you need for a great day on the beach – picnic tables, grills, trash cans and plenty of sun, but the best thing by far about East Beach, is the view you get of the Skyway Bridge.
Dog Beach – Yes this park has a beach for your best friend Fido, so be sure to bring along your dog when you come to Fort De Soto Park because dogs have their very own beach! They are allowed to run free and play in the surf with all the other dogs, but have no fear, the Dog Beach is far away from the beaches populated with people.
When Fido is finished running around and playing in the waves, and he's worked up a good sweat, there is the "Paw Playground" where you can rinse him off in one of their dog showers while he enjoys a refreshing drink in one of the dog water fountains.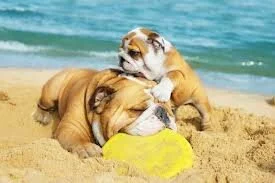 THE FORT
The park is home to Fort De Soto, which was named after the famous explorer Hernando de Soto. It was built between 1898 and 1900, the year it became active.  It never saw any action during the war, and was eventually evacuated by the Army in 1923.
During WWII, Mullet Key, where the fort is located, was used as a bombing range. Thousands of tons of bombs were dropped during these training runs, and the search for unexploded bombs still goes on to this very day.
In 1948 Pinellas County bought the island from the government, and in 1963 Fort De Soto Park was established, and was listed on the National Register of Historic Places in 1967.
MUSEUM
The "Quartermaster Storehouse Museum" is a small reconstructed army building that contains historical information about the fort, there are wall panels that tell about the early history of the area, from the 16th century when Spanish conquistadors encountered the Toccobaga Indians. There are also historical artifacts on display, as well as three cases that contain Spanish-American War items. You can also find information on WWII military history here as well. The museum is free of charge to all park visitors.
TRAILS
Barrier-Free Nature Trail – This is a handicap friendly 2,200 ft. well maintained trail that provides a self-guided experience for all. The trail is 8′ wide to allow  two wheelchairs to pass each other if necessary. There are benches located throughout the trail to rest or contemplate, and even a water fountain when you get thirsty. You will notice informative signs that point out the different flora that you're seeing. There are even touch activated boxes that help enhance your trail experience.
FERRY
There is the 46′ "Tampa Bay Ferry" that picks up park visitors at the smaller of the two piers located in the park and takes them to nearby Egmont Key for $20 a person (May 2014).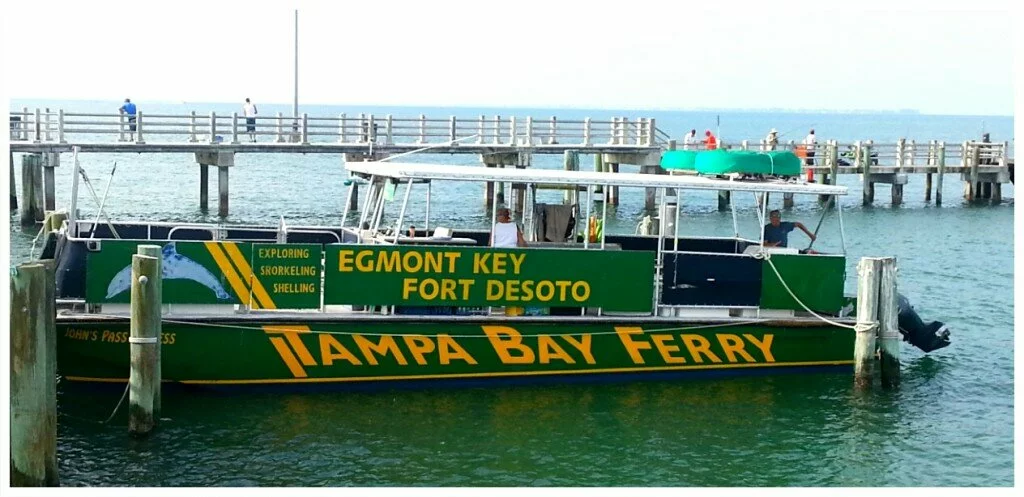 BIRDING
Fort De Soto Park is legendary among birders, and is one of the most popular birding locations in Florida for its spectacular offerings during migration, especially in spring when songbirds crossing the Gulf of Mexico make landfall. A staggering 325-plus species of birds have been sighted here, so be sure to stop at the Visitor Center/Headquarters to check the recent sightings log (add your own when you're done), and pick up a park map and bird finding guide/checklist. You can also pick up a loaner binocular if you need one. 
PIERS
There are two piers for visitors to enjoy in the park, and they both offer excellent fishing. There is the smaller Bay Pier, 500′ in length, and the larger 1000′ long Gulf Pier to choose from. Both piers are free to all visitors of the park, and the best thing about them is that you don't need to have a Florida Fishing License to fish off of them. The piers are open until 11 pm and have ample lighting so you can see to clean your catch. The Tampa Bay Ferry loads from the Bay Pier.
Where is your favorite "secret spot" located?  How about your favorite beach?







+4

0