A Place of Fairy Tales & Magic – The Biltmore Estate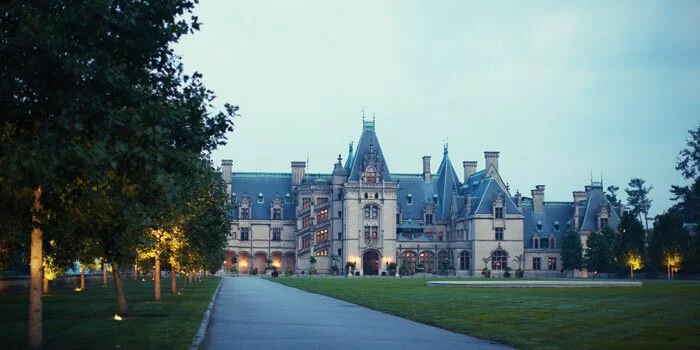 By JP Chartier
Nuzzled snugly, deep within the Pisgah National Forest and encircled by mountains that breathe blue smoke is where you can find this place of fairy tales and magic.
The opulent and somewhat imposing French Renaissance, Châteauesque-styled mansion called Biltmore Estate stands proud and illustrious, enveloped by 8,000 acres of forest and lush gardens. The acreage is split down the middle by the third oldest river in the world, the French Broad River, and lies not too far from historic Asheville, North Carolina. The lavish estate, the largest private residence in the U.S. still to this day, is a main attraction for the Asheville area, attracting 1 million visitors a year.
It was the height of the American guilded age when George Washington Vanderbilt decided to buy an enormous tract of land just outside scenic Asheville, North Carolina. Then he hired the 'premier' New York architect  Richard Morris Hunt to design the largest home in America.
Finally in 1889, one thousand workers began construction on the 178,926 square foot, 250-room home that would ultimately take 11 million bricks to complete. The construction of the mansion was such a monumental task that the small village of Biltmore, NC was constructed to house all the workers. The village remains today and is very popular with shoppers and tourists.
Six years later, on Christmas Eve 1895, it was officially opened to family and friends. The Biltmore Estate started out as the ultimate bachelor pad for George, the first three years he lived there he was single.
Unfortunately, George would only live to enjoy his "little mountain escape," as he was fond of calling it, for 19 years. In 1914 he died unexpectedly after complications from an appendectomy.
The estate was a technological wonder back when it opened in 1895, it was fully electrified and centrally heated, unheard of for the time.
Vanderbilt loved to travel to Africa, Asia and Europe, and when he was on those trips he purchased hundreds of pieces of rare art, Sheraton and Chippendale furniture, rare books, expensive novelties and tapestries which now adorn the four-acres of floor space in the estate! That's more than five football fields of space.
The mansion has thirty-five bedrooms, forty-three bathrooms, and sixty-five fireplaces. In the banquet hall, there is a forty foot-long table that seats sixty-four, and in the library, my favorite part of the house, contains more than ten thousand books. The Vanderbilt art collection contains one hundred and eighty-five paintings from artists such as Renoir, Sargent, Whistler, Pellegrini and Boldini.
Some of Edison's first light bulbs illuminated the home, and indoor plumbing was available throughout also.
A few other highlights of the mansion are: Indoor swimming pool, bowling alley, a chess set owned by Napolean while he was exiled on St. Helena, and gymnasium.
THE GROUNDS: Vanderbilt originally purchased 125,000 acres of land for his estate, and he hired the most celebrated landscape architect in the world at the time, Frederick Law Olmsted, to plan Biltmore's magnificent grounds and gardens. After Vanderbilt's death, most of the land was sold, leaving the estate with the present day 8,000 acres. The landscaped gardens cover 75 acres. There is a vineyard on the grounds that covers 94 acres and supplies the on-site winery with 75,00 cases of wine (900,000 bottles) annually.  The surrounding forest — composed of azalea, mountain laurel, dogwood, redwood, and oak trees — appears as wilderness, but it's actually a strategically designed woodland garden.
BILTMORE WINERY: Stop by the winery for a lesson in wine production and samples, then take home a few bottles of Biltmore's finest. The winery is a must see (and taste).
LEGACY EXHIBITION: "The Vanderbilts at Home and Abroad" is a very interesting exhibit that contains rare treasures from the Vanderbilt collection and focuses primarily on the lives of George, Edith and Cornelia Vanderbilt. The collections were obtained during their many trips abroad and give visitors a close-up look into their personalities. Also part of the exhibition is a short film that shares the family story, from the past to modern day. The exhibition can be found in the Antler Hill Village's Legacy building.
ANTLER HILL VILLAGE: Here is where you'll find the Winery, the Vanderbilt exhibit, a shop and a couple places to eat: Cedric's, the Bistro and the Creamery. Antler Hill Village and the winery are included in the price of your ticket to the Estate, so be sure not to miss out.
THE INN ON BILTMORE ESTATE: There is a fabulous hotel on the grounds here at Biltmore, it's rated Four Diamonds by AAA and offers guests a luxurious stay on the grounds of Vanderbilts grand estate. It's pricey – prices range from $199 – $499 a night for their 213 rooms. Includes a fitness center, outdoor pool & hot tub, gift shops, and many outdoor activities to choose from.
TOURS AT BILTMORE:
*Audio Guide (headphones) – $10+admission
*Kids Audio Guide – $10+adm
*Guided 90 min. Tour – $17+adm Book ahead
*Architects Tour – $17+adm Book ahead
*Plus many more specialized types of tours
Hours of operation-  9am – 4:30pm
-ADULTS – $59 (cheaper if you buy ahead) $74 during Xmas time
-SENIORS – $44 (Check for discount offers @ Biltmore.com)
-YOUTH – $29.50 (10-16 yrs) Children under 9 free
A visit to the Biltmore Estate is a chance for you to submerge yourself in the opulence of the Vanderbilt family and to see firsthand what it was like to live in such a way. You will see things here that will blow your mind!
Bring some good, comfortable walking shoes because you will be doing a lot of walking here! You can bring your camera but no pictures are allowed inside the house unfortunately.
If you are in the Asheville area, the Biltmore Estate is a must see.
Have you been to the estate? If so, what was your favorite room, or piece of artwork? Would love to hear from you below in the comments.
———————————————–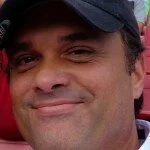 At Gutter Pup Adventures.com you can expect to read well-written and entertaining articles about the people and places that often get overlooked at many popular vacation destinations around the world.
Happy Travels!