Every Friday at GutterPup Adventures we publish a "guest post" from a high quality travel website. These talented writers will take you on a journey to the most beautiful and exciting places on earth! Today, Jaye from "Travel Far & Away" takes us on a tour of the set where the Hobbit and Lord of the Rings were filmed in the New Zealand. 
______________________
By Jaye
Looking out from the airplane window, I came to an understanding about why New Zealand was picked as the set for the famous Lord of the Rings film and The Hobbit. It's green, and just beautiful. And I'm just talking about the North Island. Part of our itinerary was to visit Hobbiton set in Matamata which is around 3 hours drive from Auckland.
An easy drive to Hobbiton is a feast for our eyes! It's all lush and green and there are definitely rolling hills as you get closer to the tour departure point. Our tour started with a drive through the thousand acre picturesque sheep farm. We've never seen so many sheep in our life! There must be thousands of them grazing along the green rolling hills.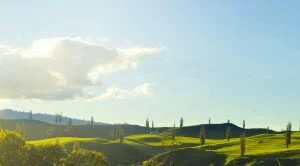 The tour is approximately 2 hours and your guide will take you through the hobbit holes and where Bilbo had his big birthday party with the famous tree as the backdrop.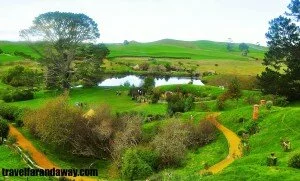 The Shire is so lush and green! During the tour, the guide will take you through the hobbit holes and you also have time for some photo-op.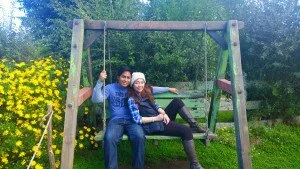 The last stop for the tour is the Green Dragon Inn where you'll get your complimentary drink. As you step into the bar, you will feel that you have been transported to Middle-Earth. For us, this was definitely the best part of the tour.
TOUR INFORMATION:
Tour Departs at The Shire's Rest, 501 Buckland Road, Hinuera, Matamata. ( Self Driving? Use this address for your GPS).
Please allow approximately 2 hours for the entire tour, a tour bus will pick you up in front of the souvenir shop to take you to the Hobbiton Set.
Tour prices starts at  $75.00 for adults.
USEFUL TIPS:
Packaged tours to Hobbiton set is expensive and you can save money by self driving. Driving is not challenging and just as long as you keep on the left side of the road, there will be no problems. In New Zealand, you drive at a maximum speed of 100 km/hr and you stay at the left side unless overtaking.
Call in advance and reserve your tickets, be there at least 15 minutes before the tour departs.
Wear a good pair of shoes, no high heels please. You will be walking on dirt, if it's raining it will get muddy and slippery.
Wear comfortable clothing of course! Sunscreen and a hat is a must when you're doing the tour in the middle of the day.
LOTR fanatic? Bring along your costumes! You can be a real hobbit or even Gandalf even just for a day!
Camera! You'll be busy taking pictures so make sure its fully charged. And watch where you are walking, you don't want to end up in the pond.
On a budget? Pack lunch and have a picnic at the Shire's Rest, outside food is allowed on the benches overlooking the rolling hills of the farm. There's also a restaurant if you have a bit of cash to spare.
ABOUT THE AUTHORS: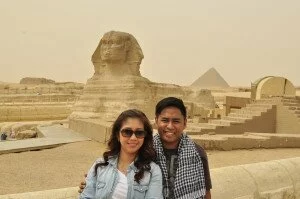 About 8 years ago, the desire of visiting beautiful places and travelling the world has only been but a dream. Being nurses by profession, this allowed us to work in another country, thereby opening doors to the world of travel and never ending learning.
Travel far and away was born from a personal blog ( travelswithjaye.com), this website is a diary of our adventures and misadventures in different parts of the globe. We have a penchant for far and exotic locations, away from the big and tall buildings. A genuine love for nature and wildlife, a very strong liking for ancient history and monuments, and of course a strong desire to travel around Europe ( who doesn't anyway?).







+8

0